Toto
Characteristics
Name
Toto
Type
Guardian
User
Dorothy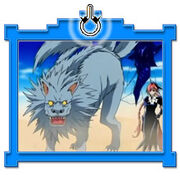 Toto is the name of a Rain Dog (a giant three-tailed dog Guardian ÄRM) owned by Dorothy.
It can eat absolutely anything, varies from normal foods, metals, and Weapon ÄRMs to enemy's projectiles and Guardian ÄRMs (even the seemingly inedible), and their users.
Although sentient and extremely powerful, Toto is afraid of Dorothy's wrath since he knows that without her he wouldn't have "good food" to eat (powerful ÄRMs). He is one of Dorothy original ÄRMs.
Community content is available under
CC-BY-SA
unless otherwise noted.