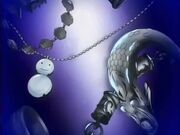 An ÄRM (アーム Āmu) is the name of an assortment of mystical objects in the anime and manga series MÄR: Marchen Awakens Romance.
ÄRMs are artifacts known to every residents born in the land of MÄR-Heaven and used by almost all for a variety of purposes, but since the 1st Marchen war, their weaponry efficiency in warfare matters was introduced, and from then forth it's been popularized. ÄRM's creation originated in the magic kingdom Kaldea, along with its magical counterpart the magic stones. They were manufactured by the wizards through the use of special metallurgy, giving them extraordinary power in the form of normal accessories. An ÄRM can almost always be "upgraded" with magic stones. They contain the abilities of other ÄRMs as well as magical power to boost any ÄRM's abilities.
An ÄRM's power depends largely upon the user's aptitude - mentally, physically and above all, magically: one must have magical power - without it, the user is incapable of using powerful ÄRMs, or in case he/she uses weak ÄRMs, the effect is minimal. So that one born of magicless blood (therefore with no such innate capacity) can have magical power, he/she opts for either training compatibility with ÄRM (e.g using ÄRM in multiple fights) or synchronizing with it - to think ÄRM is a part of the body. The second option often requires what one calls 'sixth sense' - the stronger the sense, the more consummate an user one will become. When the user can fully synchronize with the ÄRM, he befits the title of ÄRM user - as he fights, his magical power will increase, as will the power of ÄRM in accordance with it. This, however, can be a fatal flaw to those who use elemental Nature ÄRMs: as one synchronizes with them, one's physical state is highly susceptible to the ÄRM's element's anti-elementals (e.g fire weakens ice), which will eventually exhaust the two remaining factors in a chain-reaction.
Classifications
Edit
ÄRMs vary in strength and appearance and are classified into many kinds:
Simple ÄRMs: Act little more than simple tools when active.
Holy ÄRMs: Possess the power to heal wounds and undo curses inflicted by Darkness ÄRMs. Also known in the dub as 'Sacred ÄRMs'.
Weapon ÄRMs: Act as regular weapons for battle.Darkness ÄRMs: Powerful artifacts typically used to curse people often at a grave cost to the user.
Dimension ÄRMs: Possess the ability to teleport anyone to different places, create pocket dimensions, and occasionally allow someone to watch scenes happening far away.
Guardian ÄRMs: Summon a monster or 'guardian' to protect the owner of the ÄRMs. The drawback is that as long as the guardian is active the ÄRMs user is unable to move from the spot he/she was standing when they summoned it.
Nature ÄRMs: Used for certain elemental attacks, or enhancing a body's physical performance.
Ghost ÄRMs: Attach to the user's body and allows the user to use his or her body as a living weapon.
Unique ÄRMs: Any ÄRMs that can't be put into any of the other classes, such as Babbo.
Aegis (イージス Iijisu): A shield shaped Holy ÄRM that guards the user from attacks and restores his physical strength to its former full extent. It comes into Nanashi's possession from Alviss in the manga, and a little (deceased) girl named Perun of Luberia in the anime version.
Antidote Tonic: A pendant Holy ÄRM capable of curing poisons. Owned by Dorothy.
Healing Angel: An ÄRM obtained from Ian of the Chess Piece Army when he lost to Ginta Toramizu. It is a pendant Holy-type that can heal injuries to a certain extent. Currently owned by Princess Snow.
Holy Guardian Alice - Babbo Version 4: Babbo transforms into a Holy Guardian ÄRM in the form of a beautiful woman with erotically revealing outfit (much to his embarrassment). In this form Babbo can reverse the effects of curses inflicted by Darkness ÄRM. Used by Ginta.
Purific Ave: A key ÄRM with the power to undo the Zombie tattoo curse. Previously in the ghost Alma's possession before it's bequeathed to Ginta and later Alviss.
13 Totem Pole: Rod Mode: Alviss's main attacking ÄRM, a chain Guardian/Weapon ÄRM. Its Rod Mode is a Weapon ÄRM staff made of 13 sections of the totem pole. Given to Alviss by Gaira.
Aeros Staff: Weapon ÄRM owned by Queen Diana, a scepter used to creates tornadoes materializing in many forms.
Anger Anchor: A ring Weapon ÄRM which summons a giant anchor from the sky to crush enemies. Used by the Bishop Mr. Hook.
ÄRM Break: A Weapon ÄRM when activated various weapons sprout forth from Ian's body or clothes.
Astale Kuspus: Mercury's ring Weapon ÄRM, a set of seven swords darting at opponent at the whims of its user. When the final technique is commence, they will join together to form a giant

shichishito

.
Ball Hammer: Pano's mace Weapon ÄRM. Its ball head has radar skill to track down opponent and can separate into 4 sections to attack.
Battle Shovel: A Weapon ÄRM previously owned by Jack's father and now owned by Jack. This was originally disgustingly weak until it was powered up with some of Dorothy's magical stones, and thus gained abilities.
Battle Hoe (バトルホー Batoru Hoo): Like Jack's shovel, it's very weak with apparently no systems to enhance it. Used by John Peach.
Blade Ball(ブレイドボール Bureido Booru): A Weapon ÄRM that creates a ball with sharp blades extending from it. Used by the Knight Magical Roe.
Boulder Axe (ボールダーアックス Boorudaa Akkusu): A large stone axe Weapon ÄRM. Used by the Knight Candice.
Centipede: A ring Weapon ÄRM that covers the users arm in the length of a giant centipede that is able to stretch to hit the opponents. Used by the Knight Kouga.
Charm Horn: A clarinet Weapon ÄRM that makes copies of user. Used by the Bishop Hamelin.
Cross Dagger: A Weapon ÄRM in the form of a large cross, it turns into, and shoots missiles of, flame. Used by the Knight Halloween.
Daimonji (大文字 Daimonji, literally meaning "Uppercase"): A Weapon ÄRM that forms a giant, five-bladed shuriken. Kouga the Knight uses this in hand-to-hand combat.
Eisenkugel: Saturn's Weapon ÄRM. Summons a chain- ball which he utilises to torture his enemies. The name is German for 'iron ball'.
Electric Feather: A ring Weapon ÄRM made of feathers which emit electricity. Used by the Knight Galian.
Fishing Rod (フィッシングロッド Fisshingu Roddo): A ring Weapon ÄRM in the form of a fishing pole which can fling people up into the air. Used by Mr. Hook.
Gigant Blade: Danna-Orb's gigantic sword with its handle run into the spine of its heavily spiked blade.
Goddess Tact: Venus's ring Weapon ÄRM that takes the form of a ribbon.
Griffin Lance: A ring Weapon ÄRM, transforms into a long lance with a tip shaped like a griffin's head. Used by Nanashi.
Guardiss: A Weapon ÄRM that creates a large shield with a cross on it. Used by Alviss.
Harpoon Cannon: A ring Weapon ÄRM that summons a giant harpoon. Used by Mr. Hook.
Hero ÄRM: An ÄRM in a shape of a sword with wings and a shield with a red jewel in the center. Can only be activated by a person with a pure heart. Cast the user in a white suit of armor with the strength to take out a guardian and to withstand a darkness ÄRM.(used by Knight Cal of Reginrave)
Lumiere Soleil: Uranus's Weapon ÄRM, a homing edged ball. The name is French for 'luminous sun'.
Magic Hammer: A hammer Weapon ÄRM that when hits its targets will reduce their size to bean's size. Used by the Bishop Kollekio.
Magic Rope: An urn containing ropes which tie the opponent. These ropes can keep coming after their target even after being cut and the only way to stop them is to destroy the urn. Owned by Galian.
Moon Fall: Crescent boomerangs Weapon ÄRM, used by the Knight Ian.
Napalm Death: A Weapon ÄRM which grows a large blossom from the back of Halloween's cross that shoots flames like a cannon.
Necklace Blade: A Weapon ÄRM in the form of a necklace that transforms into a sword for battle, said to have dark (but yet to be revealed) power. Owned by Stanley.
Octopus: An 8 armed whip Weapon ÄRM that can regenerate owned by Ian. Its upgraded form, the Octopus II, releases whips with various types of weapon fastened at their ends.
Octopus II: An 8 armed whip Weapon ÄRM that can regenerate with various types of weapon fastened at their ends.
Para Claw: Weapon ÄRM, a powerful set of cat claws that slashes opponents and then then paralyzes them. Used by Chaton.
Python Whip: A pair of Weapon ÄRMs that are snake-shaped whips rest on the user's wrist. Used by Ian.
Rapier Whip: A ring Weapon ÄRM that takes the shape of a stone sword with an expendable blade. Anything hitten by it will explode. Used by Rolan.
Ring Dagger: A ring weapon ÄRM that becomes a dagger. Used by Alviss and Dorothy.
Saw Blade: A ring Weapon ÄRM, creates 3 saw-like swords the user can wield as weapons. Used by the Knight Pinocchio.
Screw Saber: The untwisted foil release of Mr. Hook's corkscrew-twisted bracelet Weapon ÄRM.
Shelakey: A Weapon ÄRM in the shape of a large clawed gauntlet, it can supposedly cut through anything, even other ÄRMs. Used by Avrute who wears it on his right hand.
Sickle Death: Weapon ÄRM. A scythe, engraved with a gory vulture's head. Used by Peta.
Skate: A Weapon ÄRM (true name not stated in the series) that creates ice skates on the user's feet. Used by Aqua.
Soul Flute: Weapon ÄRM, a flute that saps the magical power of the user's opponent when he or she hears the music played on it. Used by Hamelin.
Storm Kadarm: Weapon ÄRM, a set of swords that attaches to the user's arms. These can act as both offensive and defensive weapons.
Ten-Dagger Bracelet: A necklace Weapon ÄRM that transforms into a set of ten daggers to use in battle. However, if even one of the daggers is lost while the ÄRM is in use, it becomes useless. This ÄRM is not owned by any primary character, but is available at one shop Ginta and Jack stop at looking for Gatekeeper Clown.
Thousand Arm: A ring of many arms holding swords linked together and pointed outward. The user (John Peach) attacks with this by spinning it and lunging at the enemy.
Thousand Needles: Weapon ÄRM, a necklace that creates giant spikes from the ground to attack the user's enemies. Used by Nanashi.
Walking Bomb: A ring Weapon ÄRM, summons a bomb that enlarges itself every time a participant of the fight gets wounded, and ignites when it gets large enough. Used by the Knight Ash.
Animal Chain: A torc ÄRM that metamorphoses people into animals which came into Loco's possession for a short period of time.
Arrow of Eros: Venus's Darkness bow with arrows which, after shot, will inspire enmity even between best comrades. The compensation is that the user will lose all offensive power once the Arrow is activated.
Body Candle: A Darkness ÄRM that links the target's bodily status to a burning candle, causing them to melt down as it does until there is nothing left. Should it fail, its own user will compensate for its usage by melting himself at a remarkably fast rate. Owned by Kannochi.
Caged Bird: A Darkness ÄRM that transfigures its target into a bird (which bears the appearance of the target's former looks). Owned by Alviss.
Deadly Field: A Darkness ÄRM, used to wither all the trees around the vicinity, with the exception of the tree growing out of the head of the user, the Knight Vizel.
Death Cube: Darkness ÄRM which locks a person inside a fluorescent Rubik's cube. It's designed to open only when the cube is solved (which must be dealt with extra meticulously), and is fail-safed to claim the riddle solver's life afterwards. Used by Queen Diana.
Demonic Bond: A ring Darkness ÄRM which creates a chain binding the user and the opponent, used to wear out both's magic by draining their blood. Should this ÄRM be used for a long enough amount of time, both the user and his opponent may die. In the anime (to cut down on the violence) this ÄRM instead liquifies and drains both persons' magical power. However, it will still kill both with prolonged use in this version. Used by the Knight Ian.
Finsternis: Saturn's Darkness ÄRM that paralyzes the opponent in a seemingly painful hold. If others step near the victim of this ÄRM, they will be pushed back and possibly knocked out. The compensation requires the user metamorphosing into a wolf-like beast once the ÄRM is destroyed. The name is German for 'darkness'.
Grave Hail: Darkness ÄRM used by the Knight Halloween. In similarity to Alviss' 13 Totem Pole, it shoots crosses up from the ground in a Guardian style in the manga. In the anime, however, it instead summoned several ghoulish coffins that open up to release skeleton warriors to attack the user's enemies.
Igniel: A pendant Darkness ÄRM that fuses two souls into one body (the Alan/Edward case). Used by Halloween.
Iron Maiden: A ring Darkness ÄRM that takes the shape of the Iron Maiden upon summoning. Anyone who touches the Iron Maiden, or who is bound to it, will be unable to use Holy ÄRMs. Used by Ian.
Memory Eraser: An unnamed pendant Darkness ÄRM which erases memories. Owned by Galian.
Negzero: One of the Rook Loco's "Seven cursed tools", a pendant Darkness ÄRM that paralyzes the target, the side-effect is to reverse its user's aging.
Sealing Skull: A ring Darkness ÄRM, causes the target to become paralyzed while seeing images of frightening skeletal phantoms. Used by Alviss.
Slowpoke: A ring Darkness ÄRM which can make someone unable to move with the side effect of the caster gaining temporary blindness. Used by the Bishop Korekkio.
Straw Doll (Spikes and Hammer): Another of Loco's "Seven cursed tools", a Darkness ÄRM in the shape of a straw man. Metal stakes are hammered into ringed points on the straw man's body to damage the enemy in a Voodoo doll fashion. Using this ÄRM causes the user to decrease in age.
Pinocchio's saw Weapon ÄRM is based on one of the first versions of Pinocchio, where his maker found a tree that had been struck by lighting while searching for a suitable tree to cut down to make his next puppet using that kind of saw. Additionally, his Guardian ÄRM Fastitocalon is a reference to Monstro, the whale that swallowed him.
The Weapon ÄRM, Magic Hammer, used by the Bishop Korekkio, has the ability to reduces one's height. It is quite similar to a hammer from the popular Doraemon series, which increases one's height. It is probably based on the Japanese legend of Issun and the Mallet of Luck, or perhaps Mario Party 5's MegaMini Hammer.
The design of Girom's Guardian ÄRM Egola may be a reference to the Jotun: a race of Ice Giants of Norse mythology.
Community content is available under
CC-BY-SA
unless otherwise noted.